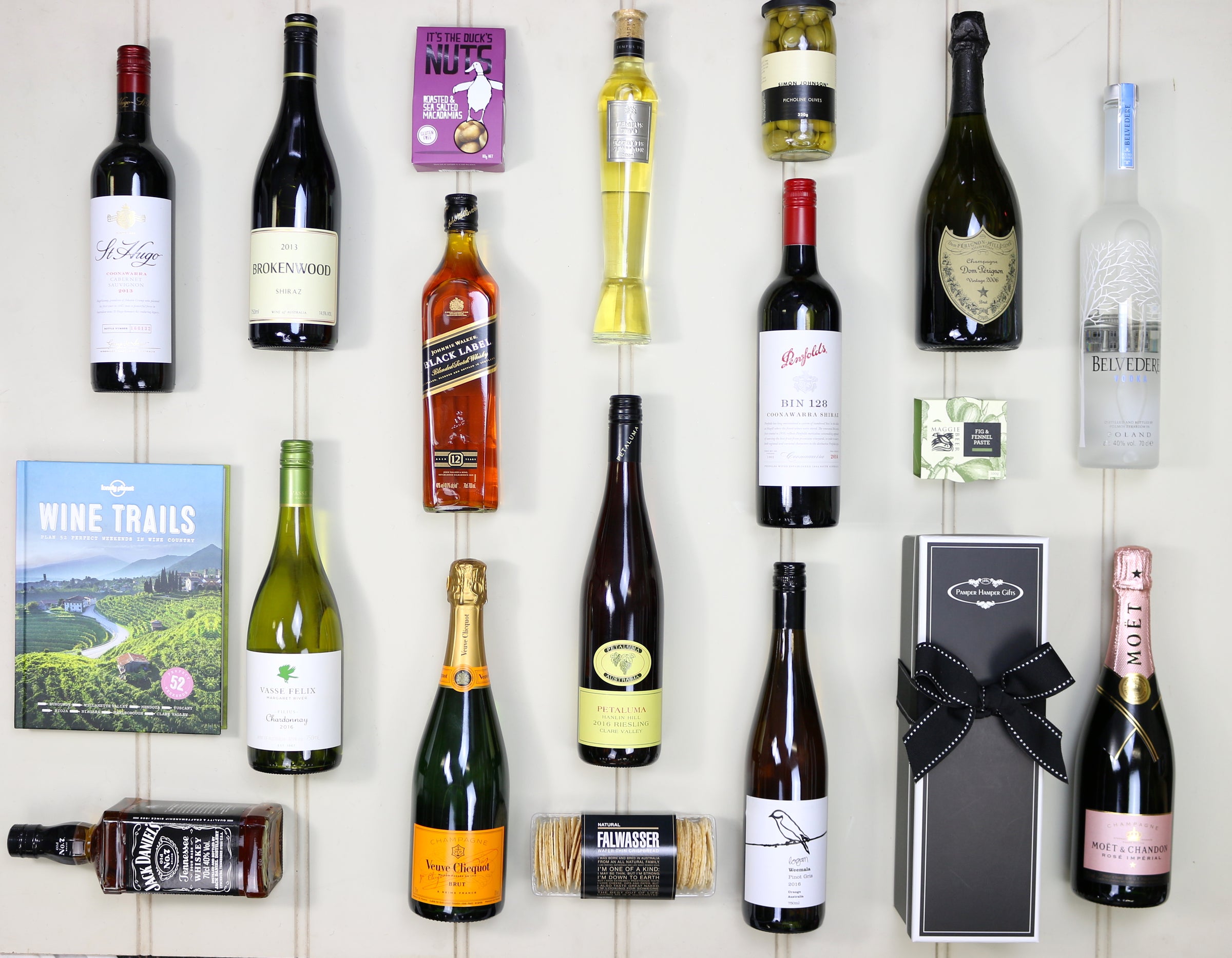 Stunning alcohol gift baskets from Pamper Hamper Gifts are overflowing with top quality wines, champagnes, whiskies, gins from renowned Australian and international brands. Paired with gourmet food, crystal homewares, chocolates or pamper products, our luxury alcohol gift hampers are beautifully curated and presented, sending a thoughtful message to the deserving recipient.

We provide FREE express delivery on all our alcohol gift hampers Australia wide - safe and contactless straight to their doorstep.

Our alcohol hampers are only available for purchase by, or delivery to persons over the age of 18 years, and can only be delivered as a gift to an address that is not the address of the purchaser.
WHAT TYPE OF ALCOHOL GIFT BASKET CAN I ORDER ONLINE?
Not everyone enjoys champagne or wine, some enjoy stronger flavours when it comes to their tipple of choice. We've created a range of liquor hampers caters to that!  For those who like to imbibe some sweet liqueurs, whiskies or fortified wines to mark a significant occasion, we have port gift hampers and Baileys Irish Cream hampers – both of which make fantastic Christmas gifts too!  
For whiskey lovers we have a big range of whiskey-themed gifts – whether they prefer scotch, bourbon or Irish whiskey – we've got all the bases covered in our luxury whiskey hampers!  Our range changes all the time, and if you need a customised hamper put together and there's a particular tipple your loved one loves to sip on – just get in touch with us to enquire!
There are so many types of alcohol hampers online. Here are just a few examples of the different types you will find:
The key to deciding the type of hamper and what alcohol you'd like to include in your gift pack will depend on who you are sending it to. If it is a colleague or business associate, you'd want to keep it professional. If you're sending a alcohol gift hamper to your mum for Mother's Day, you'd want to make it as personal and pampering as possible.
HOW DO I ORDER ALCOHOL HAMPERS AUSTRALIA DELIVERY?
If you require a number of hampers for delivery to multiple locations, you can complete our BULK ORDER FORM. Simply download the form, complete it and email it back to our customer service.
Once we have processed your order, we will send you a tax invoice with a secure link for payment via credit card or PayPal.
All our gift hampers include free premium delivery Australia wide. On average, our delivery time is 1-2 business days for alcohol gift baskets to Australian Metro cities and 2-5 business days for delivery to regional Australia and Northern Territory. We supply you with the tracking number so you can track your gift basket delivery. So if you order a champagne and chocolate gift for delivery in Melbourne, your gift will be delivered 1-2 business days from dispatch.
WHO CAN I GIFT ALCOHOL BASKETS AUSTRALIA TO?
Gift hampers containing alcohol from Pamper Hamper Gifts make the perfect present for clients, friends and family, aged 18 years and above.
It is against the law to sell or supply alcohol to, or obtain alcohol on behalf of, a person under the age of 18 years (Liquor Act 2007).
WHAT IS THE BEST ALCOHOL GIFT HAMPERS AUSTRALIA?
Whether you're looking for craft beer or champagne hampers, we have them all. Here are our top three best alcohol gift baskets Australia: 
COCKTAILS & SPIRITS ALCOHOL GIFT HAMPERS
Hampers with premium spirits paired with gourmet delights deliver a world of fine gifting. Our range of beautifully presented spirit hampers includes whisky gift hampers, the finest port, cognac, gin hampers, and flavoured liqueurs for alcohol gifts with a difference.
With only the best, world-class spirits included in each of our alcohol spirits hampers, they are perfect to enjoy neat, on ice, or with their favourite spritz or cocktail. 
WHAT ARE THE MOST POPULAR SPIRITS TO GIVE AS A GIFT?  
Whisky, cognac, vodka and gin are among the most popular liquors in Australia. Whisky hampers in Australia are the best selling alcohol gifts when it comes to spirits, followed by gin which has been popular for both men and women.
Our most popular spirit hampers in Melbourne and Sydney include our Archie Rose Gin Luxury Celebration Hamper - our signature spirit hampers featuring Australian craft gin. Our Glenmorangie Whisky hampers are the perfect selection for lovers of the fine Scotch whisky. 
WHEN IS IT APPROPRIATE TO GIVE ALCOHOL AS A GIFT?
Alcohol gift packs are generally a welcomed gesture because they are associated with class or prestige. You rarely have to worry about gifting someone alcohol because even if they don't drink it regularly, they are sure to have a glass or two on special occasions.
Gift hampers containing alcohol are quite versatile and make a wonderful gift for any occasion. If you're looking for Christmas gifts or Christmas hampers, a baby gift to congratulate them on the arrival of their new bundle of joy, or the perfect gift for their birthday (any special occasion really) you'll have all your bases covered with a bottle of their favourite tipple and some gourmet food.
All Alcohol hampers are supplied as a gift. In order to comply with applicable laws:
The person ordering the alcohol hamper must be a different person to the recipient of the alcohol hamper.
The person ordering the alcohol hamper must be over 18 years.
The recipient of the alcohol hamper must be over 18 years.
The gift can only be delivered to another adult who is not the purchaser.
The gift cannot be delivered to a person at the location where the gift was purchased.