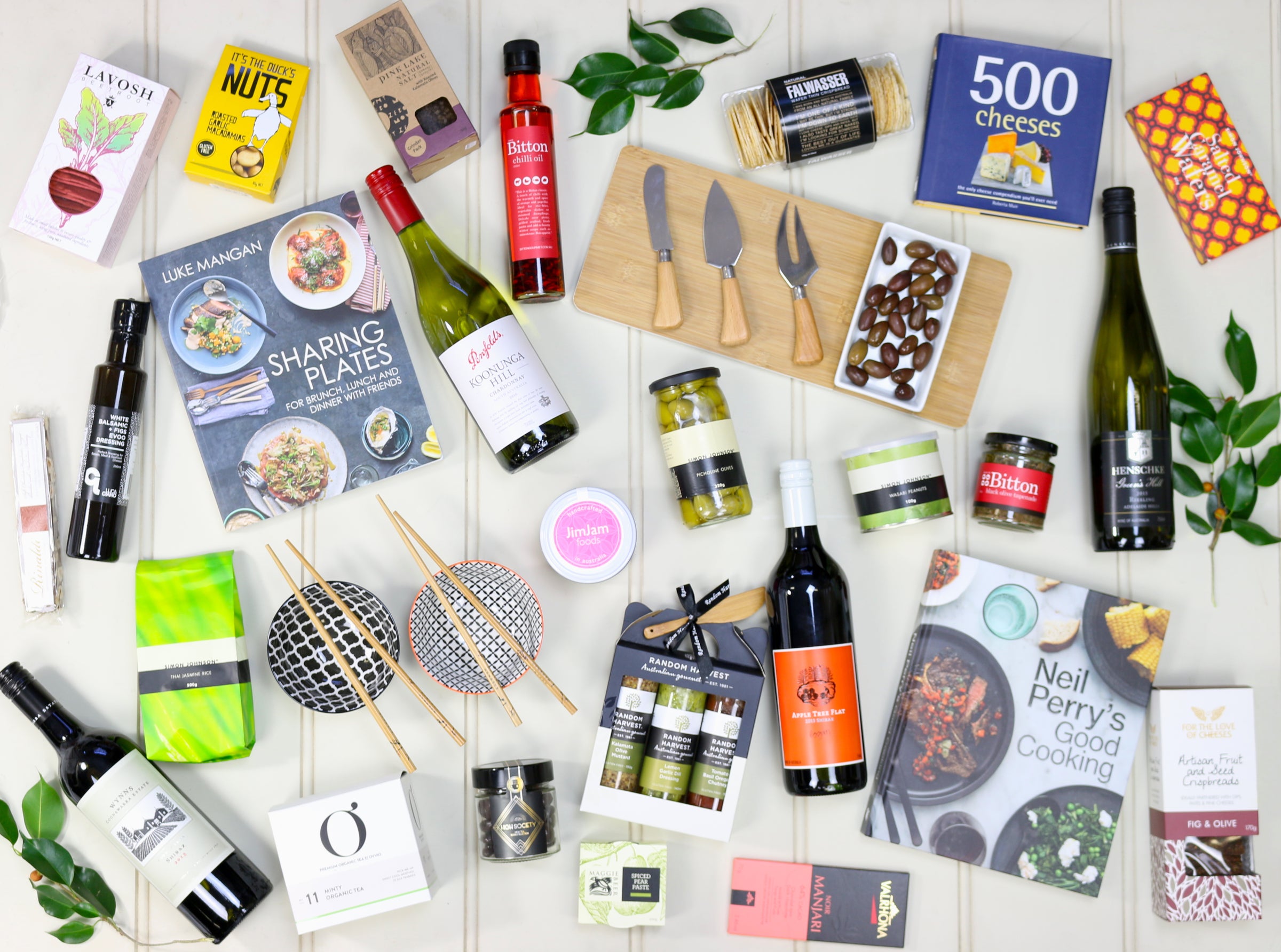 Stunning gourmet hampers from Pamper Hamper Gifts are overflowing with sumptuous epicurean delights designed to tempt and tantalise the fussiest of foodies. Luxury food items from the finest leading brands adorn beautifully presented gourmet gift hampers and gift baskets, sending a thoughtful message to the deserving recipient.
IRRESISTIBLE GOODIES IN LUXURY GOURMET FOOD BASKETS!
Even the fussiest foodies love Pamper Hamper Gifts' gourmet gift basket hampers filled to the brim with mouth-watering sweet treats, savoury nibbles, and fine wines and beverages. Our food hampers include the best produce from local artisan producers and that's what makes our gourmet gift baskets Australia's favourite! See for yourself, you can browse and order our gourmet food hampers online.
What are gourmet baskets?
A gourmet basket is a gift hamper that contains an assortment of delicious epicurean treats that can either be savoury or sweet. Many gourmet food gift hampers include champagne, wine and spirits but you can also buy gourmet hampers online that do not contain any alcohol.
What gourmet products are included in a gourmet hamper?
Only the tastiest gourmet products from leading Australian brands are included in Pamper Hamper Gifts gourmet gift hampers. These gourmet treats satisfy both savoury and sweet palates and include sensational French champagne such as Moët, robust red wines such as a highly regarded Margaret River Cabernet Sauvignon, or Australian white wines to sip and savour with sweet treats. You may even find a cheeky French rosé, a naughty G&T and a smooth whisky amongst the mix!
Typically Pamper Hamper Gifts gourmet food gift baskets include luxury food items we may not indulge in on an everyday basis, making these gourmet hampers perfect for special occasions. The products we include in our hampers are not available at your everyday supermarket.
Gourmet Christmas hampers filled with seasonal festive foods make perfect corporate gifts for your colleagues, while wine hampers and chocolate hampers are beautiful gifts for any special occasion.
Delightfully decadent and tasty sweet treats include chocolate hazelnut nougat, chocolate covered strawberries and irresistible chocolates, exquisite jams and spreads. Luxury gourmet gift baskets with a savoury feel include crisp crackers and tasty nuts along with assorted pastes, dressings and chutneys and olive oils, to name but a few.
Which luxury gourmet hampers are great for foodies?
The sophisticated palates of fabulous foodies find many Pamper Hamper Gifts gourmet food hampers to their liking.
Foodies do get excited about the prospect of indulging in many of our award-winning gourmet food hampers, luxury gifts overflowing with the finest Australian gourmet food products and quality Australian wines.
What makes gourmet basket hampers the best gift for all occasions?
Luxury gourmet gift boxes, hampers and gift baskets are impressive birthday hampers, corporate gifts and can also create a romantic mood or a celebratory vibe for any special occasion. Traditionally, our universal celebrations, commiserations and appreciations are centred around the comfort of good food and wine. There really is no better way to celebrate a significant life event or corporate success than with fine foods and wines presented in beautiful gift boxes and baskets.
A Pamper Hamper Gifts gourmet hamper sends a thoughtful message to the receiver, whether it be sent with love, appreciation, recognition or best wishes. We offer a vast choice of hampers for all occasions and budgets and a friendly, personalised service with the option to create bespoke hampers too. Complete with a variety of epicurean delights and fine wines and beverages, a gourmet box pleases everyone.
Most popular online gourmet hampers in Australia
At Pamper Hamper Gifts the wide range of gourmet gift hampers deliver a broad choice of quality gourmet treats suitable for every budget and special occasion. Which are the bestsellers? Well, that's a tough question because they're all so popular for different reasons.
The Antipasto Gourmet Hamper is popular with those who like to send gourmet treats without alcohol. Inside these beautifully presented Pamper Hamper gift boxes are award-winning Australian brands of decadent nibbles – think irresistible olives, nuts and the finest crackers and pastes to enjoy with your drink of choice.
The Moët Champagne & Nibbles Gourmet Hamper is always a favourite. Wash down delicious nuts, crackers, quince and fig pastes with a sensational bottle of Moët - how can you go wrong? A popular choice as an Easter gift and corporate hamper!
The White Wine and Cheese Board Gift Hamper, Red Wine & Sweet Treats Gourmet Hamper and the Premium Craft Beer and Nibbles Gift Hamper also sit proudly alongside many others on the Pamper Hamper Gifts best seller's list.
When is it appropriate to send the gift of a gourmet gift hamper?
The highest quality sweet or savoury gourmet food and wine hamper is appropriate to send at any time but especially for the following special occasions:
Christmas;
Birthday;
Anniversary;
Valentine's Day;
The arrival of a new baby;
Mother's Day;
Father's Day;
Promotions;
Settlements;
Graduations;
To say thank you;
To offer best wishes;
For any Corporate gifting occasion.
Why choose gourmet hampers from Pamper Hamper Gifts?
Pamper Hamper Gifts are an Australian owned and operated, award-winning family business. We do more than pamper gifts. We deliver exceptional gourmet food hampers Australia wide, with free standard delivery. While the well-established company is small, the business is big as this mother-daughter team has been recognised and awarded as Australia's Most Luxurious & Award-Winning Gift Box Hamper Company, also winning the Australian Small Business Champion Awards in 2010 and 2012.
Pamper Hamper gourmet gift hampers are guaranteed to please, complete with deluxe presentation, gift wrapping and all luxury finishes included for free. A loyalty program is available, a free hamper customisation service is offered, and a fast and reliable delivery service is provided Australia wide. But most importantly, hundreds of beautiful gifts presented in stunning gift boxes, hampers and gift baskets provide the perfect solution to your Christmas gift dilemmas, special occasions, and those hard-to-buy-for corporate gifts.
Award-winning Pamper Hamper Gifts are the most popular online gourmet hamper providers for several reasons:
the quality of our diverse gift items,
fine wines and beverages and gourmet foods is second to none;
we provide exceptional customer service with multiple ordering methods, flexible payment options and prompt, reliable delivery Australia wide;
and we offer a huge selection of the highest quality gourmet hampers for special occasions such as Father's Day, Mother's Day and Valentine's Day, corporate gift hampers with bulk order provisions and specialised Christmas hampers.
Gourmet hampers delivered free Australia wide
Yes that's true - our gift hamper service does include free standard delivery Australia wide! That's across Melbourne Sydney Perth Brisbane, everywhere in Australia. Where possible we also offer same day or next business day delivery, and if you need your gourmet gift hamper delivered on a specific day or date we can do that too, with a little notice! See our Delivery Information for specific details.
Personalise your corporate gourmet hamper for the memorable gift
Luxury gourmet gift baskets are a wonderful settlement gift to welcome new home owners into their new abode. We make corporate gifting easy with bulk ordering provisions, personalised gift cards and the optional inclusion of your corporate logo on double-sided satin ribbon. All professionally produced in-house so that there is no delay in delivering you gifts. When you choose Pamper Hamper Gifts for your corporate gifting at Christmas time, we make sure your brand remains uppermost in your clients' minds with a positive message throughout the festive season!
Luxury gourmet baskets Australia for Christmas
This is Christmas shopping made easy! Shop from the safety of your home with easy online ordering and prompt hamper delivery Australia wide. The perfect gift for anyone at Christmas, our gourmet hampers for Xmas include festive treats to please a sweet tooth, the highest quality champagne or wine and specialised gourmet food products to make sure your Xmas is full of festive foodie flair! Filled to the brim with decadent Xmas treats, the Veuve & Nibbles Christmas Gift Hamper has something to please every member of the family while the Celebration Hamper is an absolute crowd pleaser.