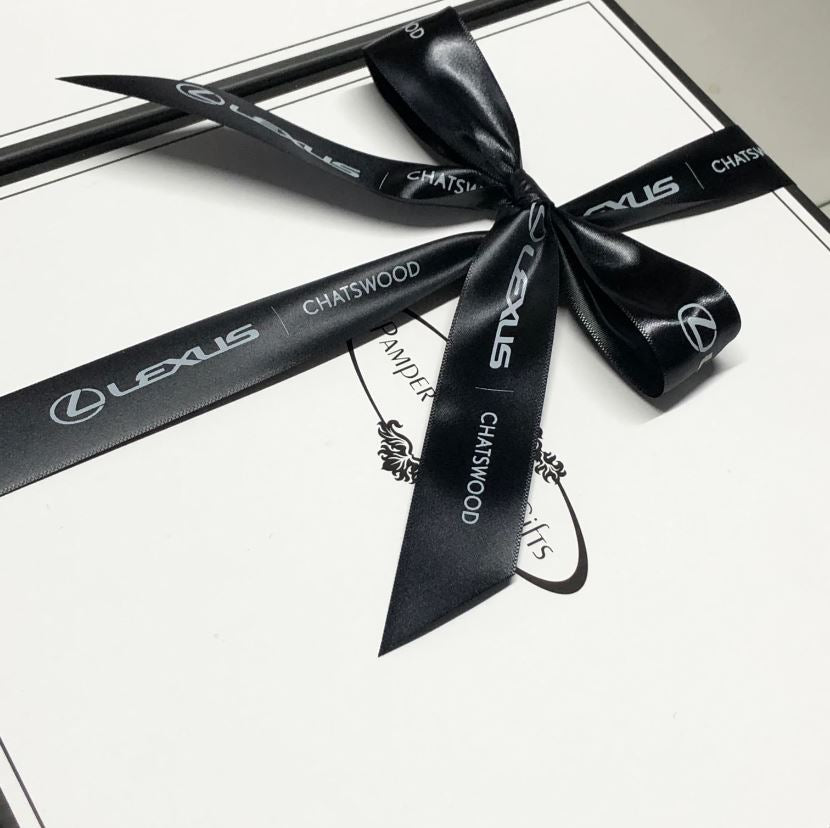 Corporate gift hampers from Australia's leaders in luxury corporate gift hampers. View our full range of Corporate Gift Baskets which include a free gift bag, box, ribbon and card. All Corporate hampers include fast and reliable free delivery to any business address Australia-Wide.
CORPORATE GIFTS OF QUALITY AND STYLE
Pamper Hamper Gifts prides itself on gifting corporate gift hampers of unrivalled excellence. The luxury brands we represent in our corporate hampers range are world famous and the cream of Australian produce. Gourmet foods, fine wines, renowned Champagnes, whiskey and spirits, premium pamper hampers, crystalware and glassware feature to impressive effect in our corporate hampers selection. Our professional packaging, free deluxe gift-wrapping, personalised gift tags and the option to provide corporate-branded gift ribbon and gift cards also offer unrivalled style. Prompt-and-reliable delivery throughout Australia is also assured for your corporate hamper purchases at Pamper Hamper Gifts.
For enquiries contact  1300 038 490 or send us an email.
1. WHAT ARE THE MOST POPULAR CORPORATE GIFTS?
The most popular corporate gifts are always a matter of refined taste, affordable quality and also state-wide preferences throughout Australia.
Our popular corporate hamper gift selections always provide a taste of discerning luxury and premium presentation for all your corporate gift-giving needs. Whether you are rewarding your loyal staff with quality gifts, celebrating Christmas with corporate hampers that add festive finesse for corporate clients, staff gifts, settlement gifts and all special occasions on the corporate calendar, you are spoilt for choice with our most popular range of corporate gifts at Pamper Hamper Gifts.
2. THE BEST CORPORATE GIFTS HAMPERS FOR YOUR CLIENTS
The best corporate gifts to provide an invaluable client feature world-famous brands in gift selections of the finest quality at Pamper Hamper Gifts.
Award-winning brands, such as the Glenfiddich 12 Year Single Malt Scotch Whiskey With Chocolate, Spiegelau & Red Wine Corporate Hamper, Waterford Crystal Champagne Flutes, Welcome to Your New Home Gourmet Hamper and, of course, our Taste Of The Best (Australian boutique craft beer and gourmet nibbles selection) feature prominently in our best corporate gift hamper range at Pamper Hamper Gifts.
3. HOW CAN YOU CREATE YOUR BESPOKE CORPORATE HAMPER?
My Own Creation is a specialty gift category at Pamper Hamper Gifts, which allows you to handpick the perfect gift items that match the special occasion and your corporate gift recipient's personal tastes for the ultimate in bespoke corporate hamper gift giving.
4. ORDER CUSTOM PACKAGING FOR CORPORATE HAMPERS
Our signature black-and-white, keepsake gift boxes and gift baskets, complete with free deluxe gift-wrapping and your personalised swing card are standard with every gift hamper purchase at Pamper Hamper Gifts. However, you can take custom packaging to a new level with corporate branded grosgrain satin ribbon and corporate-branded gift cards for a uniquely personalised and unmistakeable decorative flourish in all your custom-packaging requirements at Pamper Hamper Gifts.
5. BULK ORDER YOUR CORPORATE HAMPERS

Pamper Hamper Gifts offers bulk ordering services on its corporate hampers gift selections. Simply download the bulk-order form online to fine-tune and streamline your bulk orders for corporate hampers and all gift hamper selections in the complete range at Pamper Hamper Gifts.
6. SET UP A CORPORATE ACCOUNT
Our expert staff can assist in opening and maintaining your personalised corporate account at Pamper Hamper Gifts. Simply inquire via our highly responsive online chat function, via email or call us directly to set up your ongoing corporate account.
7. SHIPPING IS FREE WITH OPTIONAL EXTRAS

Free Australia-wide delivery on your corporate hampers is assured at Pamper Hamper Gifts.
The shipping cost of your corporate hamper delivery from Pamper Hamper Gifts is our gift to you. Same-day delivery options are also available and the cost for these additional services depends on the metropolitan or regional-Australia zone of your gift recipient. You'll find all the necessary delivery information online at Pamper Hamper Gifts listed under the Ordering & Delivery section.
Pamper Hamper Gifts is based in Sydney, but we offer prompt-and-reliable delivery to all Australian capital cities.
8. TRACKING YOUR DELIVERY
Once your corporate orders have been processed at Pamper Hamper Gifts, you will receive immediate confirmation and subsequent email/SMS updates on the estimated delivery and arrival of your corporate hamper gift selections. Our prompt-and-reliable courier service provides pinpoint accuracy and customer peace of mind in tracking and receiving your corporate hampers, corporate gift baskets and all gift hampers in our extensive online collection at Pamper Hamper Gifts. 
9. THE BENEFITS OF DOING BUSINESS WITH PAMPER HAMPER GIFTS
When you consider range, quality of produce, world-famous brands, the ultimate in gift packaging and beautiful presentation, coupled with expert customer service and free, Australia-wide delivery on all your gift hamper selections, it makes perfect business sense to order your corporate gift hampers online at Pamper Hamper Gifts. Some of our notable differences include:
Free deluxe gift-wrapping and your personalised gift card.
Bulk ordering is a breeze for multiple corporate hamper gift selections.
Our offer of providing a personal account for all your hamper purchases.
Loyalty program with an attractive bonus system and other added incentives to shop online with Pamper Hamper Gifts.
Free delivery, Australia wide, on your corporate hampers. 
10. WHY DO PAMPER HAMPER GIFTS OFFER THE BEST CORPORATE GIFT SERVICE?
When you add up the quality, quantity, affordability, attention to detail and unparalleled customer service of conducting corporate gift giving business, the choice is clear: the best corporate gift service is undoubtedly Pamper Hamper Gifts.
1.
Easy corporate ordering
Effortless ordering process.
Personal accounts and range of services.
Bulk-order options.
Pamper Hamper Gifts provides the ease in all your corporate ordering transactions. Ensuring that you receive a smooth, effortless and enjoyable gift-giving service, first time and every time, is our ultimate aim at Pamper Hamper Gifts. As such, we offer personalised corporate and individual accounts, bulk-order forms, immediate online customer support, instant ordering and confirmation and the ability to order via email or by calling us directly at Pamper Hamper Gifts.
2.
Best corporate gifts for employees
The best in range and quality.
Affordable luxury is on offer.
Employee gifts made for sharing.
The best corporate gifts for employees are offered with the highest quality, affordability and group sharing options in our extensive and irresistible range of popular corporate gifts in Sydney and Melbourne, designed for rewarding and congratulating your loyal staff on a job well done.
3.
Premium corporate gifts
Premium' defines our corporate gift selections.
World's finest brands in offer.
Luxurious corporate gifts for refined tastes.
Premium corporate gifts are one and the same words in the corporate hamper gift selection on offer at Pamper Hamper Gifts. Whether your corporate clientele receive our world-famous Champagnes, whiskey and spirits, exquisite crystalware and glassware, the finest wines, craft beers, specialty coffees and teas, gourmet foods, artisan chocolates and boutique-brand chocolate biscuits and confectionery, the word "premium" defines every luxurious commodity on offer in our premium corporate gift selections at Pamper Hamper Gifts.
You could also choose from our extensive pamper hamper gifts in the luxurious corporate hamper range, including the Lost In Amalfi Surprise, Meet Me In Tahaa, Veuve Pamper Hamper and Alpha Male.
The plushest microfibre bath robes, leading skincare and aromatherapy brands, world-famous Champagnes, fine wines and the cream of gourmet foods offer premium pamper gifts that provide the ultimate in corporate-style indulgence and rejuvenation.
4.
Australian brands
Best of Australian brands.
Local produce is quality assured.
Australia's finest takes care of your business.
We pride ourselves on representing the best of Australian brands in our premium corporate hamper gifts. The essence of locally produced brands join forces, with national pride and team-sharing, gift-giving style, in the Made In Australia gourmet food corporate hamper selection. Some of our most loved and trusted, local, award-winning brands include:
Robert Oatley Wines from the Margaret River & Yarra Vallley wine regions.
Larry Cherubino Ad Hoc Wines from the Margaret River, WA wine region.
Gemtree Bloodstone Organic Wines from McLaren Vale, SA.
Colonial Pale Ale Brewing.
Young Henry's Newtown Australian Pale Ale.
Jasper + Myrtle bean to bar handmade chocolates.
Rinaldi Confectionery.
Jim Jam Foods.
Byron Bay Cookie Company.
Port Willunga Fine Foods, SA.
Sami's Kitchen Fine Foods.
The Gourmet Merchant, VIC.
Mount Zero Olives, Sunshine West, Victoria.
5.
Corporate hampers and baskets
Presentation is second to none.
It is what's inside counts.
The finest quality in corporate gifting.
Our corporate hampers and gift baskets not only contain the ultimate in luxurious goodies, but they also always look the goods. The signature black-and-white gift boxes and baskets at Pamper Hamper Gifts, enhanced with free deluxe gift-wrapping and embellished with satin grosgrain ribbon and your personalised gift tag or gift card, are designed to make a statement the moment they materialise at your enthralled gift recipient's door.
6.
Business gift Ideas
Our business is gifting your business with the best.
Select from our extensive gift range.
Build your unique business gift ideas.
Business gift ideas abound at Pamper Hamper Gifts. You can select from our range of corporate hamper selections or create and build your own business gift ideas for gourmet gifts, wine hampers, pamper hampers of your choosing with our My Own Creation bespoke hamper options, online at Pamper Hamper Gifts.
7.
Corporate Christmas Gifts
Celebrate the festive spirit in style.
Christmas and corporate hampers go hand in hand.
Delight, reward and entice with the finest luxury.
Christmas provides the perfect occasion to indulge valued clientele and reward your dedicated staff. Pamper Hamper Gifts offers an extensive and affordable range of corporate Christmas hampers that effortlessly, impressively and luxuriously embrace the season to be jolly. Festive-themed gourmet foods, both sweet and savoury, fine sparkling wine, white wine, rose and red wine, famous-brand Champagnes, delicious chocolates, chocolate biscuits and confectionery, decadent dessert sauces, provide the makings of Christmas corporate hampers to share and cherish at Pamper Hamper Gifts.
You are advised to order early for Christmas 2023 to avoid disappointment. Some of our most popular corporate Christmas hampers can sell out quickly, prior to the Christmas retail rush, but we do our utmost to ensure that stocks are always replenished.
This is just another reason why Pamper Hamper Gifts is Australia's number one choice for Christmas hamper gift giving.
8.
Corporate food hampers
Gourmet food, gourmet gifts and all gourmet hampers are the essence of our corporate food hampers.
Premium produce to suit all palates.
The ultimate in quality and quantity.
Food, glorious food, is offered in premium, tantalising, gourmet style with the quality and quantity available in our range of corporate food hampers. The cream of Australian and international produce, for sweet and savoury palates, including artisan chocolate hampers to covet or as a crowd pleaser, are designed to tempt the taste buds and delight your corporate clientele in luxurious style.
9.
Corporate wine hampers
Vintage and special-edition wines are a specialty.
Handpick the best of the wine-loving crop.
Wine varieties and wine regions to suit every taste.
Only the finest local and international wines, many vintage or limited yield or special edition, features in our corporate wine hamper selections. Premium reds, whites, roses, sparkling wine and of course French Champagne will wet the lips and whet the appetite of your wine-loving corporate gift recipients.
Some of our premium Champagne and wine brands include:
Moet & Chandon.
Charles Heidsieck
GH Mumm.
Veuve Clicquot.
Bollinger.
Penfolds.
Dom Perignon.
Chandon.
Rinaldi Confectionery.
Contact details: 1300 038 490 or send us an email.